A roll shutter is an aluminum curtain system that shields building openings such as doors or windows.
Roll shutters create a physical barrier when closed, protecting windows, doors, and owner possessions from possible damage or theft. They also increase the energy efficiency of a building by adding an extra layer to the building envelope.
The entire system is mounted on the exterior face of the structure, making it a simple yet effective upgrade for all buildings.
Roller shutter boxes contain a roller mechanism and are available in several design profiles including flush mount, mounted behind the plaster, or mounted on the external brick. Rolltec will help you understand what works with your structure and your design vision. After you choose your design and product details, we measure and manufacture your new exterior roller shutter curtains right here in the Edmonton area. Usually, we can install your new made-to-order shutters in a single day.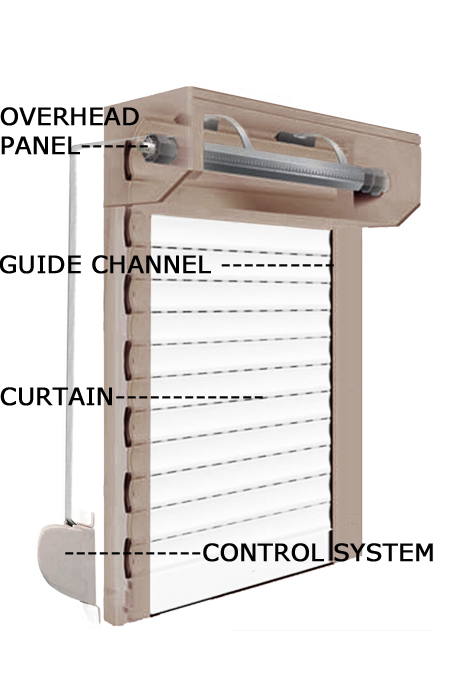 Overhead Panel
Guide Channel
Curtain
Control System
There are three (3) lift control systems to choose from:
Electric Remote/Switch
Pull Strap/Rope
Winch
Installation
Having pre-fabricated the Roll shutter, the installation process is relatively quick and clean. Together we will discuss where you would like to have the lift control located, mount both the roll shutter and lift control to the wall, drill a hole and connect the two systems and finally level and test the roll shutter to ensure that it functions properly.